Hair transplantation is usually carried out under local anesthesia. Naturally, the first questions that come to one's mind are: Is painless hair transplantation possible and is it a completely painful treatment?
The use of local anesthesia and medication for rest allows the patient to sit, watch films, listen to song or easily nap throughout their process.
Afraid of needles and pain? No issues, thanks to the new computer controlled local anesthesia delivery system-a robot syringe called Dentapen. This device, now in use at Dr Paul's, makes injections comfortable by using microprocessor to control the extremely low speed pressure of lcoal anesthetic for a totally pain free injection.
The new technology made the transplant procedure quite comfortable, it also helps faster and easier recovery of patients coz' no staples or stitches with today's advanced FUE transplant harvest techniques, there is no tension on the face, and most patients start regular activities immediately and get back to normal within just a few days after treatment.
Patients can see a little soreness after FUE surgery however most doesn't require anything other than over-the-counter pain medication.
Hair Transplant Treatment Detail Summary
Permanent Persistence of Results
3-15 Days Sensitivity Time
3 Days Time to Return to Work
Sedation and Local Anesthesia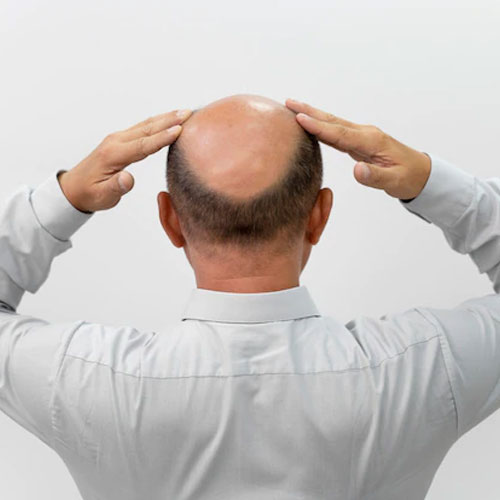 STAGES OF HAIR TRANSPLANTATION
Hair transplantation procedure consists of 4 different stages. Below, the stages that explains operation on the day of operation are listed.

Hair transplant is required when you get hair thinning or bald areas of the scalp. Thinning of hair is not only attributed to age but also a common side effect of many chronic diseases.
Professionals takes tiny grafts where there is healthy hair growth. Once the patches have been taken, these are studied to understand better how the skin is and the complications. After that Hair transplantation begins, where the bald patches are covered with hair grafts in scalp. Then, healthy hair grafts are put in place of the bald area with the help of highly advanced equipment Dentapen.
Many might wonder what we use to make it prompt and painless! The entire credit goes to the technology we have invested in and built over the years. We use our latest edition, the Dentapen, is one of the latest and best you will ever come across.

Use Of Dentapen

It is a kind of robotic syringe a computer-controlled system that ensures that the local anesthesia delivery system makes injections absolutely pain-free.

Pen is also known for significant healing process. You have to remember that quality is a most critical need. You can also see our client feedback portal, which will help you to understand how we work and it can be trusted. Once you get in touch with us, we will provide you an appointment date and then you will get assistance from our professionals, who will guide you through the process. Painless hair transplant is beneficial as a process and can help many individuals.