Painless Hair Transplant: Experience the Best Hair Care at DR. PAUL'S
Are you tired of dealing with hair loss and looking for a reliable solution? Look no further! At DR. PAUL'S, we specialize in providing the most advanced and painless hair transplant in gurgaon. With our state-of-the-art facilities and a team of highly skilled experts, we ensure exceptional results and a comfortable experience for our patients.
You might be wondering why choose the best hair care clinic near me. It's simple. We have the best hair doctors in Gurgaon who are renowned for their expertise and dedication in delivering natural-looking and long-lasting results. Our team understands that each individual's hair loss concerns are unique, and we customize our treatments accordingly.
When it comes to <b<painless hair transplant surgery, we utilize the latest techniques and technology to minimize discomfort and ensure a smooth procedure. Our specialists perform procedures with precision and care, ensuring minimal scarring and a quick recovery time. We prioritize your comfort and make sure you feel at ease throughout the process.
At DR. PAUL'S, we are committed to providing comprehensive hair care solutions, from initial consultation to post-treatment care. Our holistic approach focuses not only on restoring your hair but also on addressing the underlying causes of hair loss to prevent further damage.
So, don't let hair loss hold you back! Experience the transformative power of our painless hair transplant in Gurgaon. Book your consultation with the
best hair doctor in Gurgaon
at DR. PAUL'S today and take the first step towards regaining your confidence and a full head of hair.
Hair Transplant Treatment Detail Summary
Permanent Persistence of Results
3-15 Days Sensitivity Time
3 Days Time to Return to Work
Sedation and Local Anesthesia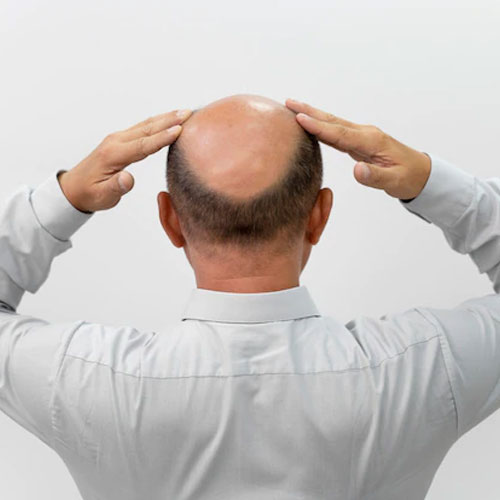 STAGES OF HAIR TRANSPLANTATION
Hair transplantation procedure consists of 4 different stages. Below, the stages that explains operation on the day of operation are listed.

Hair transplant is required when you get hair thinning or bald areas of the scalp. Thinning of hair is not only attributed to age but also a common side effect of many chronic diseases.
Professionals takes tiny grafts where there is healthy hair growth. Once the patches have been taken, these are studied to understand better how the skin is and the complications. After that Hair transplantation begins, where the bald patches are covered with hair grafts in scalp. Then, healthy hair grafts are put in place of the bald area with the help of highly advanced equipment Dentapen.
Many might wonder what we use to make it prompt and painless! The entire credit goes to the technology we have invested in and built over the years. We use our latest edition, the Dentapen, is one of the latest and best you will ever come across.

Use Of Dentapen

It is a kind of robotic syringe a computer-controlled system that ensures that the local anesthesia delivery system makes injections absolutely pain-free.

Pen is also known for significant healing process. You have to remember that quality is a most critical need. You can also see our client feedback portal, which will help you to understand how we work and it can be trusted. Once you get in touch with us, we will provide you an appointment date and then you will get assistance from our professionals, who will guide you through the process. Painless hair transplant is beneficial as a process and can help many individuals.